400WOG Bronze Y- pattern Strainer with Stainless Steel filter
Specifications
bronze Y-type strainer valve F/F
*stainless steel screen
*size:1/2"-4"
Normal pressure:1.6Mpa
Many Years of OEM experience
Bronze Y- Strainer Valve , Bronze Y- Type Strainer Valve , Bronze Y- pattern Strainer with Stainless Steel filter
1.Basic:
Body: Casting body or Forged brass body
Size: 1/2",3/4",1",1-1/4",1-1/2",2" 21/2" 3" 4"
Stainless Steel 304L or 316L Strainer net:
Surface treatment: sand polish blasted and raw surface
Material : C83600 .C84400. CC491K .....
2.Technical Standard:

Norminal Pressure 1.6MPa
Application:Water,Oil,Gas,Steam
Working Medium:Water,Non-causticity liquid,Non-combustible gas,Saturate steam
Working tempersture:- 20°C≤t≤150°C
Taper Pipe Thread to ISO228,,BSP,NPT ,NSPT .G .R .Rc ..etc.
3.Valve Component:

:Bronze Body and Cap , PTFE washer
Strainer net: stainless steel
4. Company Advantagement:
High Quality
1) 100% Leakage Test,100% Line End Inspection,100% Roughcast Inspection.
2) The basic inspection for below process:
Material Control (every batch material have to make test by Spectrometer firstly), Machining Quality Control(workers
self-inspection regularly), In-coming Material Inspection, Assembly Line Quality Control, Leakage Testing, Final Inspection Before Delivery.
3) 6S use in management in production,ERP is planning.
5) Guaranteed Quality In Resonable Price.
6) On-time Delivery in 45 days
7) Have much experiences and strong ability to develop new products.
5. Company idea:
1)Value: Honesty,Equity,Innovation,Win-win
2)Mission: To make value for customers;To create wealth for employees.
3)Vision:To improve value according quality,to be the most trusted valve company in whole China.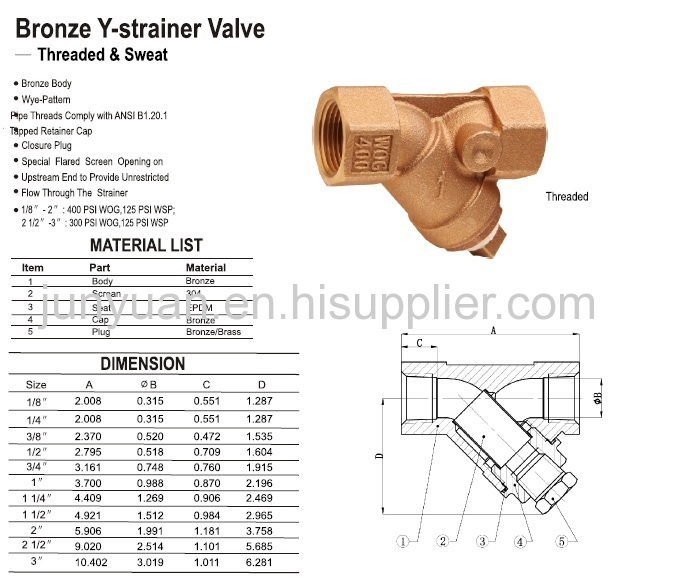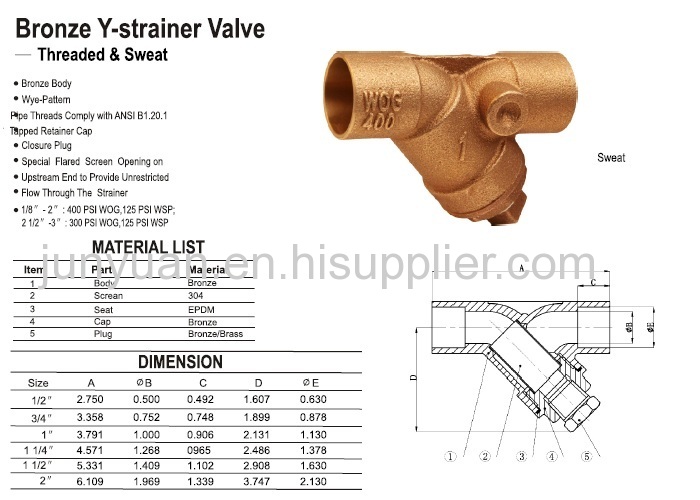 Welcome to your inquiry anytime, the following is our company contact informaion